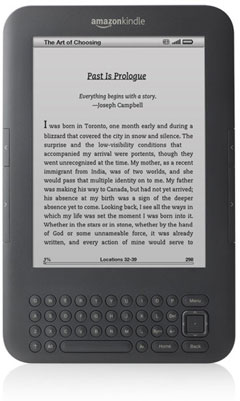 I purchased an Amazon Kindle just nine days ago and have already completed two novels. For me, this is a notable achievement. I hate to admit it but I, until very recently, was one of those people that puzzled over others' passion for fiction. I read a great deal of non-fiction online, but books of all kinds have never taken me in like they have others. I won't make excuses as many do, saying that school ruined my passion for books. Endless analysis of Shakespearean prose didn't faze me as much as others, but I simply never caught the reading bug.
I can remember reading only a handful of fiction books in my teenage years, few of them worth a mention.
So, I hope I've made it clear how much of a feat this really is! A success, for me, and for Amazon no doubt. The Kindle may have been just the low barrier I needed to get started on a passion that already burnt within.
The Kindle itself is lightweight, but not so thin that it feels delicate. Some things that may surprise you about the latest Kindle:
It has a microsoft-sam-esque text-to-speech function which does become invaluable, especially when trying to figure out how the hell "recalcitrant" is pronounced!
It can read any PDF. This morning I snapped a quick screenshot of Google Maps, saved it to a PDF, transferred it across, and voilà! I now have a portable map.
Since it's 3G enabled, and has an experimental browser installed (webkit), I can browse the internet in most of its glory. It's grayscale and somewhat slow but who cares! This is meant to be an e-book reader after all; anything in addition to the basic set of e-book-reader features is a huge plus!
It's possible to jailbreak it and install your own screensavers, which are left on the screen when the device powers-off.
It has a built in dictionary. This sounds like nothing impressive but when I'm puzzling over a word, mid-sentence, the last thing I will bother doing is digging out an actual dictionary.
There are no pages to turn! Less fumbling with pages as you lie on your side and more time immersed in the world your book creates for you.
The e-ink screen is as easy to read as an actual book (No glare, great contrast, etc.).
You can play minesweeper!
Like everything that dares to inflict change, the Amazon Kindle is something that shouldn't really be knocked until it's tried. Don't disregard e-books as a passing fad, and certainly don't disregard the Kindle. Its awesome simplicity makes it disappear in your hands, just as it should: you're not interfacing with a device; you're reading a book.
Thanks for reading! Please share your thoughts with me on Twitter. Have a great day!